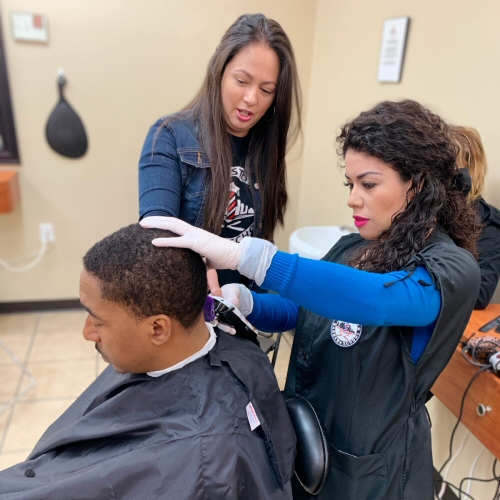 Houston Barber School was founded in January, 2015. The first classes were taught at the Rankin Rd. location on January 13, 2015. Since that time, Houston Barber School has graduated hundreds of students. The school currently offers the following programs: Class A Barber, and Cosmetology to Barber Crossover
Houston Barber School is licensed by the Texas Department of Licensing and Regulation, Private Post-Secondary, P. O. Box 12884, Austin, Texas 78711-2157, (512)-463-6599, to operate a Barber College in the State of Texas. Houston Barber School is also accredited by the National Accrediting Commission of Career Arts and Sciences (NACCAS), 3015 Colvin Street, Alexandria, VA 22314, 703-600-7600.
Students who attend Houston Barber School receive the top notch service from your first day of enrollment, through graduation, and even as an Alumni. All students receive their instruction in a comfortable, professional space that consists of a classroom and lecture area, a clinical area where students are positioned based on their level of skill, a break room, administrative offices, and a reception area. All services are conducted on real clients. We see the value of putting you in a real world situation where professionalism, high-quality services, and the ability to communicate are the benchmark for success. We aspire to change the lives of men and women by giving them the opportunity to gain knowledge and career building skills in the industry of barbering.